J'ai enfin trouvé le temps de lire "Trail to failure" par Richard E. Baldwin, un texte sur le désastre de la constitution européenne recommandé par Bernard Salanié. Ce texte est intéressant car il remonte le temps pour expliquer comment on en est arrivé là.
Deux points ont particulièrement marqué mon attention: La plupart des dirigeants Européen se prétendent pro-Européen, en fait ils voient surtout dans l'Europe un outil qui sert leur intérêts personnels au niveau national.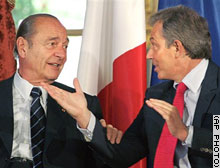 "Chirac was just not willing to go down in history as the President that allowed France to become the junior partner in the Franco-German duo."
"British Prime Minister Tony Blair declared that the UK would put the Treaty to a referendum. This served his domestic political interest in that it removed the issue from the 2005 General Election."
Mais où sont les Monnet, Schuman, Gasperi ou Adenauer?
Le deuxième point qui m'a marqué est que les livres d'histoire des ex-pays communiste et ceux des pays d'europe de l'ouest sont différents. Les uns attribuent le déclenchement de la seconde guerre mondiale au capitalisme, les autres, au nationalisme.
"For instance, most of the leaders of the 10 new member states grew up in nations where the secondary-school history books blamed WWII on capitalism, not destructive nationalism as in the West European history books."
Si vous n'avez pas le courage de lire les 19 pages de ce texte il existe une "version courte" en 2 pages, mais ce serait dommange de passer à côté de ce texte.